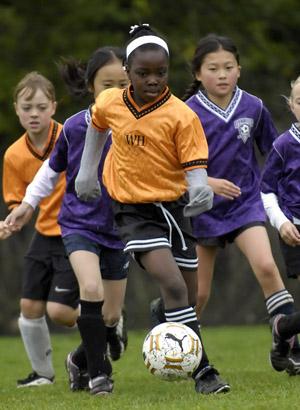 Posted By Michele Rulnick:
Spring is coming and soon those of us with grade school children will be spending our evenings and weekends at ball fields watching our aspiring athletes participate in friendly competition. This ritual is such an important part of our family life. Growing up my two brothers and I played every sport we could. My parents made the sacrifices necessary to drive us town to town and provided us with the equipment that we needed to participate. My father coached many of our teams and I can't remember a time that either parent missed a game. They pushed us to work hard; they never let us quit a team and supported the coach (even when they didn't see eye to eye). Through participation in sports we learned the value of hard work, the joy of winning and the agony of defeat. We felt what it was like to be both a champion and part of a losing team. As a result of sports we experienced the disappointment of having to sit on the bench and the pressure of batting clean up. We felt the pride of scoring the winning basket and the pain of making an error that cost our team the game. As adults, those memories and experiences are all relevant and important. The real and lasting value of participation in youth sports is the friendships made, the relationships built with adults who cared more about us then the X and O's and the life lessons that sports provided.
This is why we start this ritual anew as parents and as coaches. Like my father, my brothers and I all coach youth sports teams. We do so because we love the game but more importantly we love what participation in sports can do for children. We also coach because we understand the value and lasting impact that one adult role model can have on youth development. Coaching involves much more than teaching the game; a great coach teaches life lessons while developing an athlete's knowledge and personal skills. Liberty Mutual has a great website called Responsible Sports. The website offers terrific tips for coaches, drills and age appropriate skills, and strategies for making a lasting impact. The website is responsiblesports.com. In the coaching resource the ELM is introduced as a philosophical guide for youth coaches. ELM stands for Effort -- always give 100%, Learning -- improve constantly as you gain more knowledge and Mistakes are OK -- mistakes are how we learn. These are the life lessons that shape us into responsible, successful adults. Having more wins than loses does not make one a great coach. A great coach teaches athletes that hard work, focus, personal sacrifice, achieving personal goals and supporting each other as teammates is what makes a great team and a great athlete. I hope that when your child steps onto the field this season they have the opportunity to work with a great coach. If you happen to be that coach – best of luck and have fun!